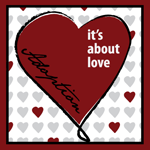 itsaboutlove.org
Have you been to this site yet?
It took a few years but it got a great looking face lift!
I has also gotten some attention very recently....YEAH!!!!!
Go here to read the

article
.
Go here to see the website
.
We got to help with the web content....
Picture of our kiddo's is found
here.
Story on how we were ready to adopt is found
here
.
Q&A section: found
here
.
There might be other sections we are in but these are the ones I am aware of.
My favorite part of the site is found
here
.
I love Birth Mothers!
I am grateful we got to help with this site...it was a special opportunity for a cause that has blessed our lives over and over again.
And as we say in the Small Adventures Home
Adoption means...
More Loved!
go here to see why