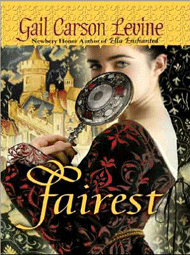 I was looking for something new to read....something easy and enjoyable.
I found it in the young adult section of my library.
This book is written by Gail Carson Levine and the story takes place in a place called "Ayortha". Does this place sound familiar? If you read (or watched) Ella Enchanted you would remember Areida who was Ella's Ayorthian friend. With the same magical fun as Ella Enchanted ...Fairest was so enjoyable I couldn't put it down.
If you are looking for a great story to read while soaking up the sun I would suggest this one!
You can visit this author's blog
here.